Published: 23/02/2023
Categories: News
Immerse yourself in a 360-degree virtual office tour of our Headquarters, based in Bell-lloc, near Barcelona (Spain). A look inside, where we take bagging automation of bulk solids to the next level.
How to move around. For a fully immersive experience exploring our building, you can either use the arrows on the ground or click directly on a particular area in the menu. Also, click the hotspots to learn more.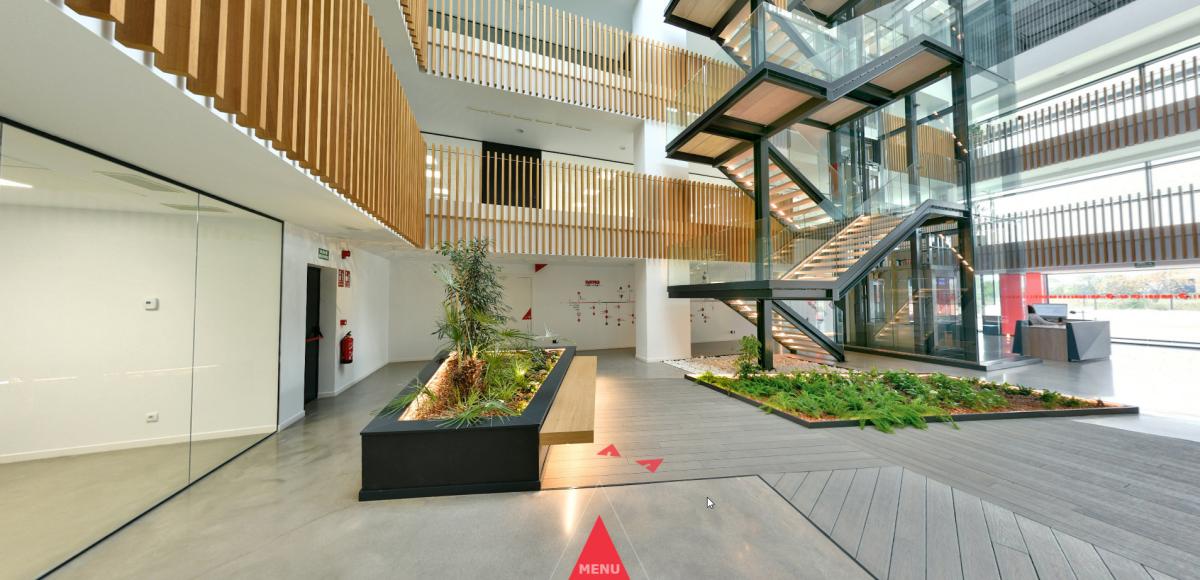 New state-of-the-art facilities. The new offices, fully operational since the end of 2021, have a fantastic combination of aesthetics, open space and comfort, allowing collaboration, interaction and teamwork like never before.
From ideas to reality. The office area measures 2,500 m2, distributed over three floors. Explore the different spaces, from the meeting rooms where ideas come to life, to the different areas where the employees work in collaboration. With a team of more than 150 highly qualified professionals, we accompany our customers throughout the entire process: from the creation of the initial layout to the close attention after the acquisition of the production line. More than 50 engineers form our Innovations and Projects team.
Manufacture of complete bagging lines. The location change allowed us to replace the two existing production centres and increase our efficiency and production rates by 50%. We currently have a total of 6,000 m2 dedicated to the production and 800 m2 to the new Product Testing Area. This space is exclusively dedicated to testing products, bags and processes for our customers and being an important area for the company's R+D+i.
Take PAYPER's Virtual Office Tour now:
Contact us if you want to have an in-person tour of our new facilities and meet our team. You will see our manufacturing process in action, and we will show you how it all works.